Quality Analyser consists of two key components:
A graphical comparison tool; and
Detailed underlying data tables to assist you in refining, marketing and selling market leading propositions.
It is designed to support multiple needs within your business, delivering a unique combination of analysis enabling you to:
Create detailed insight comparisons
Based on independent third-party research,
That are easy to understand
The analysis can be used to:
Demonstrate the strength of a proposition
Highlight any areas that require tactical focus
Understand the quality/functionality of products within a specific area
Assist in winning new business
Help retain clients
Comparison reports generated via Quality Analyser will help you:
Drill down into the detail of individual features within a product
Provide detailed benchmarking
Validate product recommendations through impartial, objective third-party research
This feature is particularly powerful for building and validating business cases for development roadmaps.​
Helps sales staff understand where your propositions are significantly ahead of the competition.​
Impartial evidence of differentiation for advisers and 'Beauty Parade' responses.
Benefits of the Quality Analyser:
Independent third-party market insight​

Access to a wealth of detailed analysis on your own, and your competitors', proposition which will allow you to:​

Fully understand your own offering​

Gain detailed insight on your peers​

Assist in work/ resource planning for RFI and other information requests​

Support your internal development plans and future road map​

Independent assessment of your proposition​

Ability to produce the same reports as the advisers who use the system​

Support your existing sales process and assist in client retention​

Identifies how your propositions compare with those of your peers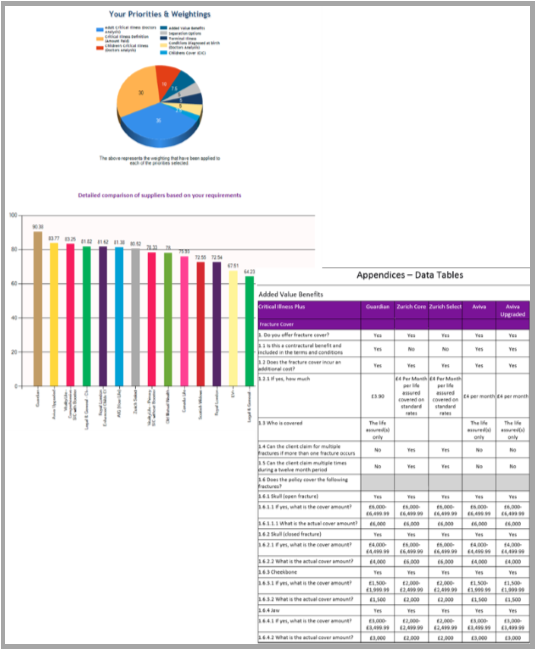 Market insight tables are used to explore specific product and operational features in detail from all participating providers. ​
This provides a means to interrogate all the underlying data which powers the comparison service. It offers an unparalleled depth of analysis providing easy access to surveys of 3,000+ questions for each product.​
These will allow users to create comparative tables of the product features and other parts of a proposition based on responses to individual questions or a range of issues from different product providers.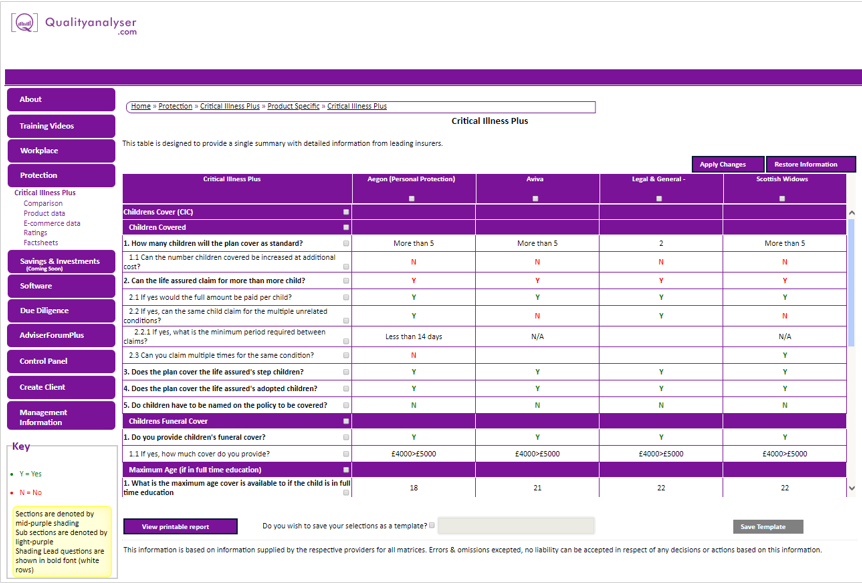 Users can generate either full reports (typically 30+ pages) or a simple two-page (A4 duplex) qualitative comparison which are ideally suited for use with clients to complement the quotation/recommendation process.