"Making Savings Affordable" Report
In April we see the first of the Auto-Enrolment contribution increase's take effect. This report addresses the impact these (along with the April 2019 increases) will have on a consumers disposable income and the knock on effects this will have to the UK savings market.
Millions of UK consumers want to save, but have never been taught how.
This report looks in detail at how we can help create additional savings each month in tough economic climates in order to ensure that rising pension contributions are met, providers retain projected new assets and opt-out rates don't rise.
We have produced a focused report to examine what a "best of breed financial wellness model" needs to include in order to address the savings deficit and ensure the continued success of Auto-Enrolment.
Key areas which this report looks at are:
• Size of the opportunity
• UK savings problem
• The effects increasing Auto Enrolment contributions will have over the next 15 months
• A detailed overview of our "best of breed financial wellness model", looking in depth at:
– Personal Financial Management
– Financial Wellness and better budgeting
– Short and long term goals
– Smarter spending (discounts, reward & geo-location)
– Smarter savings (micro-savings, comparison services and saving to suit the consumer)
– Debt management
– Risk analysis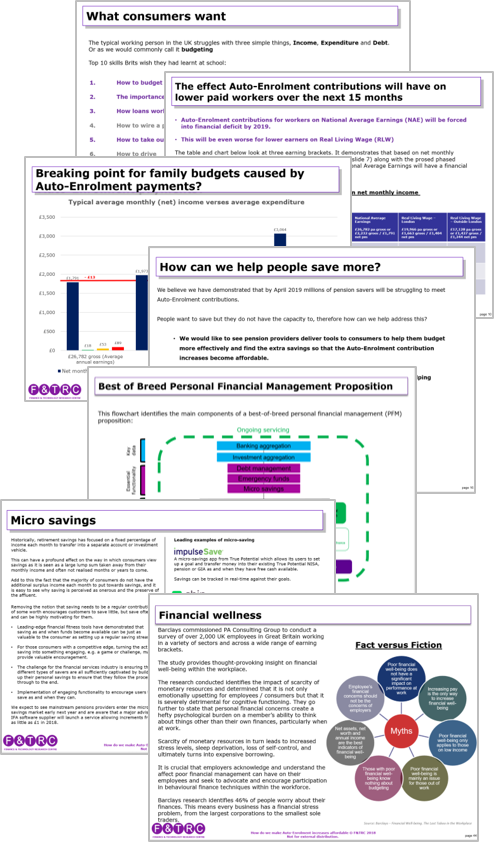 Making Savings Affordable report (one off purchase):
Optional Extra:
Half day workshop to review report and identify priorities with two FTRC consultants:
£2,000 + VAT
(meeting in London or via video conference – please contact us for onsite pricing)
For more details, or to order the report, please contact FTRC on: