Weekly product focused insights which share knowledge, understanding and enable decisions.
FTRC use the data they collect to create insights which will share knowledge and understanding and enable decisions.
"Insights" are created weekly and distributed to advisers via a range of channels including social media, email, and our AdviserForum.com.
Testimonial for Protection Insights:

"At Drewberry we pride ourselves on our superior product expertise and in-depth knowledge of each insurer's proposition; without this we couldn't truly provide the 5 star advice we deliver to our clients. It's essential therefore that every adviser not only keeps abreast of changes to each insurer's policies, but also has an awareness of the finer points that distinguish one provider from another and how a particular plan best satisfies our clients' needs. The weekly Quality Analyser Comparison Service emails from the F&TRC drill down into the different policy terms and details and provide a concise insurer comparison on a multitude of topics.
The weekly emails cover an overarching theme, with a diverse range of subjects covered from short-term Income Protection, financial evidence for Business Protection Insurance, and Life Insurance claims processes (to name three recent topics). Unlike some provider-produced material there is no bias, and the quality analyser provides an honest factual assessment of each insurer's approach to a particular policy feature or issue, backed up by a genuine understanding of what is important to the adviser and their clients.
As the Head of Protection for Drewberry it is my role to ensure our advisers have access to the right tools and materials to deliver the highest quality advice. It's here the F&TRC's Quality Analyser Comparison Service is an invaluable resource that every adviser, regardless of their core speciality, should be signed up to and engaging with."
Robert Harvey Cert CII – Head of Protection Advice, Drewberry Insurance
Subjects covered to date include: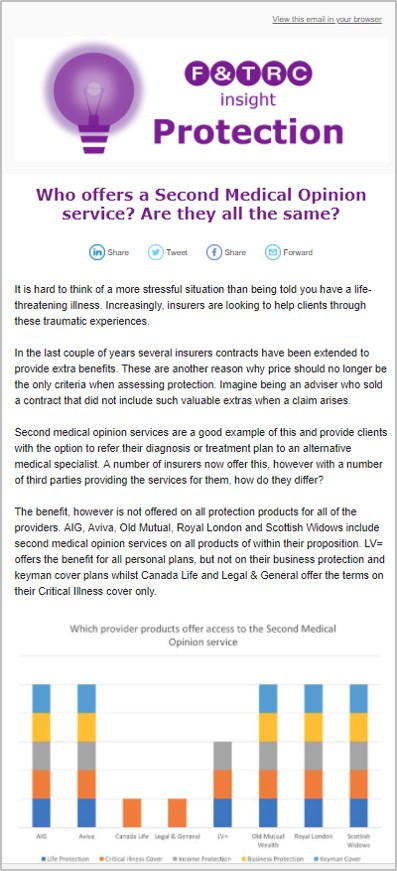 To sign up to receive our weekly Protection Insights please Click here (Link will take you to an external website).
To read our existing Protection Insights please visit www.adviserforum.com