"Digital Wealth Insights" Report
Digital wealth, robo advice, automated advice and a host of other phrases are being used to describe a wide range of emerging technology-based financial services.
But what does it all mean and how do you compare them all?
Our Digital Wealth Insights study explores leading edge developments in this important emerging market and looks month by month at key players and new organisations, what they offer and how they compare. It's designed to provide an extensive overview of the market place to enable informed analysis and discussion.
FTRC have spent many years examining how advice is evolving both in the UK and internationally with a particular focus on the role of technology.
Our flagship Digital Wealth Insights report provides a current state assessment of the various types of WealthTech propositions available in the UK. 
The report investigates the key data, essential functionality, core components and principles within each digital advice proposition providing:
• An unbiased view of players in the UK digital advice market
• Analysis of the propositions currently available for:
·         Non-advised investment
·         Advised investment
·         Personal Financial Management
·         Micro-saving tools
• Comparison tables for an easy understanding of who does what
• Informed commentary and analysis
• A high level overview of FTRC's 'best practice' digital advice models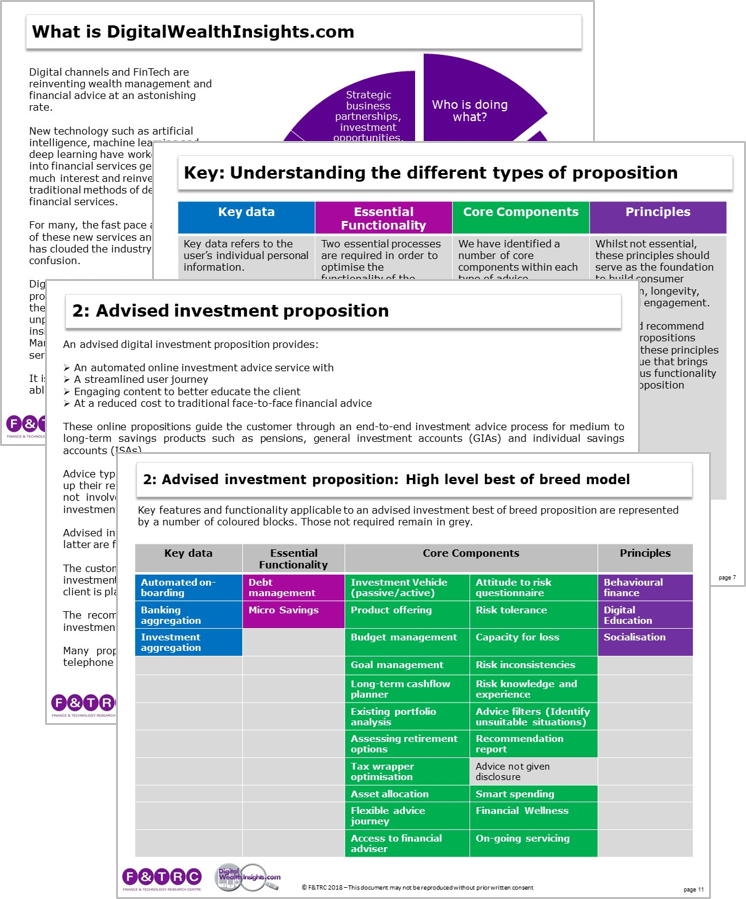 The report also includes our analysis of each proposition, broken down as follows:
• Proposition Overview
High level overview of the service including a short summary of the proposition written by the provider
• Strengths & Areas with Scope for Improvement
Our assessment of the proposition's strong points and where enhancements might be made
• DigitalWealthInsight Heart Ratings
Our subjective assessment about the proposition based on our experience in speaking to the organisation, our perspective on their proposition and how we feel about their potential to transform the way consumers' manage their money
• Detailed Functionality
A full summary of the proposition across 44 areas of functionality
• FTRC Detailed Analysis
Our in-depth analysis of the proposition
• Proposition Roadmap & Existing Client List
A summary of the planned enhancements over the coming 12 months plus a list of users' of the service
• Best of Breed Functionality Map
A graphical analysis of the components and functionality within the service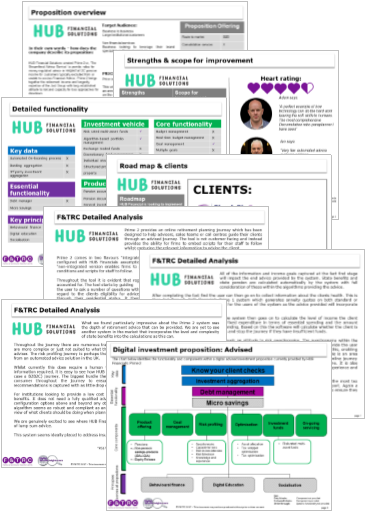 Testimonials for the Report

"A great summary of the range of digital wealth propositions and insights into comparison between them."
Peter Horrell, Managing Director
"This is an invaluable piece of analysis and insight. To have the reviews of all the main players in the market side-by-side, all reviewed through the same lens, by people that actually understand the industry, the customers and the technology is unique and hugely powerful."
Jonathan Hewitt – Direct Platform Specialist (previously Head of Fidelity Personal Investing)
Insight report (joining fee + 11 monthly updates)
We will typically add/update 6-8 reviews per month
£3,000 + VAT plus 11 monthly payments of £500 + VAT
Optional Extra:
Half day workshop (in London) to review report and identify priorities for relationships with Digital Advice proposition providers with two FTRC consultants:
£2,750 + VAT (meeting in London or via video conference -please contact us for onsite pricing)
Single copy of report (without updates)
For more details, or to order the report, please contact FTRC on: