Software Vendor Comparison & Selection
A wide range of organisations are incorporating increasingly sophisticated financial planning tools as part of their propositions. Developing such services can be both costly and time consuming. Using our special technology and industry insight, F&TRC have developed a specialist service to help organisations define their requirements and identify the most suitable suppliers for such services.
The service is designed to enable organisations to accelerate their speed to market and reduce the cost of sourcing such tools by identifying those vendors that have the closest fit to an organisation's requirements.
The F&TRC Financial Planning Tools vendor database already includes information from 20+ software vendors and includes information on 47 financial planning tools.
REDUCING DEVELOPMENT COSTS, ACCELERATING DELIVERY
By prioritising requirements and identifying suppliers/manufacturers with products that best fit needs, F&TRC are able to give significant cost savings in bringing new services to market.
Through workshops, teleconferences or face to face meetings, F&TRC build up a detailed understanding of the specific requirements and the priorities attached to this.
Using our extensive knowledge of the marketplace F&TRC are best placed to not only understand or review what the potential options are and highlight any issues there maybe with a strategy or tactical decisions that have been made looking in areas such as:
Product areas covered
Data re-use i.e. Pre-population and Repopulation
Functionality control
Management Information
F&TRC analysis tools have the ability to build dedicated scoring models to objectively benchmark responses against priorities
Our benchmarking system allow direct comparison between suppliers either on specific issues or from a high level point of view, showing with whom the "best fit" may lie.
At the conclusion of the vendor selection exercise a detailed report is delivered that presents back the firm's requirements and priorities.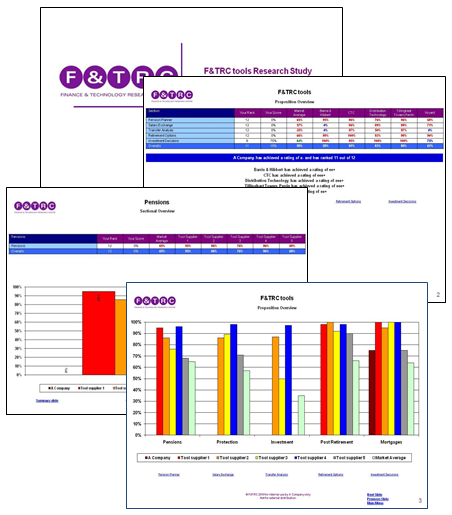 Protection Tools
Home and Contents Calculator
Income Replacement Calculator
Inheritance Tax Planner
Life Cover
State Benefits Calculator
Sum assured calculator
Pension Decumulation Tools
Annuity Assessment Tool
Annuity Calculator
Post Retirement Death Benefits Calculator
Retirement Options Comparison Modelling Tool
State Benefits Calculator
Standard Lifetime Allowance
Targeting income in retirement
Tax free cash calculator
Tax free cash (impact of taking early)
Investment Tools
Asset Allocation Tool
Bonds tax charge calculator
Bonds v collectives comparison
Income Tax Calculator
Inheritance Tax Planner
Lifetime Income and Objective Planner
Portfolio Modelling
Re-balancing Tool
Risk Profiling Tool
Savings Plan Calculator
With Profits Analyser
Pension Accumulation Tools
Affordability/Budget
Asset Allocation Tool
Cost of delay
Income Tax Calculator
Lifetime Income and Objective Planner
Pensions Tax charge
Pension Tax Relief Tool
Portfolio Modelling
Re-balancing Tool
Risk Profiling Tool
Pension Planner
Salary Exchange
Salary v Dividends Calculator
Standard Lifetime Allowance
Targeting income in retirement
Tax free cash calculator
Transfer Analysis